IDHES-Nanterre / Version française / Archives
Colloques / Journées d'études

,

Atelier

,
Evolution Of The Retail Trade In The 20th Century. Social, Economic & Political Perspectives
Publié le 2 septembre 2015
–
Mis à jour le 22 juin 2016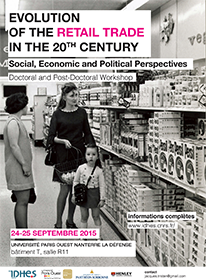 Date(s)
du 24 septembre 2015 au 25 septembre 2015
Thursday, September 24th : 13.30- 18.00
Friday, September 25 th : 08.45-16.45




Lieu(x)
Bâtiment Ephémère 3 (T)
Room TR11 (first floor)












THURSDAY, SEPTEMBER 24TH
13.30 Welcoming of the participants
14.00-14.30
INTRODUCTION
Thomas BUCKLEY and Tristan JACQUES
14.30–18.00 - SESSION 1: RETAILERS AND CONSUMERS
President-discussant : Sabine EFFOSSE
Olivier LONDEIX
"The Customer-Retailer Relations in French Casino Chain Store (1898-1940)"
Jenny EVANS
"Change and Continuity in the Hodson Shop Collection and Archive" (title to be confirmed)
16.00-16.30 Break
Bethan BIDE
"More than Window Dressing: Visual Merchandising and the Changing Face of Consumerism in Post-War London, 1945-1951"
Fredrik SANDGREN
"An Easy Sell? The Introduction of a System for Deep Frozen Food in Sweden 1945-1960"
***
FRIDAY, SEPTEMBER 25TH

08.45–12.00 - SESSION 2: PUBLIC POLICY AND THE RETAIL INDUSTRY
President-discussant : Michel MARGAIRAZ
Peter HEYRMAN
"Unlocking the Padlock: Retail and Public Policy in Belgium, 1918-1958"
Tristan JACQUES
"Small Shops, Hypermarkets and the State. Retail evolutions and retail policies in France, 1945-1973"
10.15-10.30 Break
Adam DEWITTE
"Regulatory Constraints and Business Models Evolution. The Case of the French Food Chains' Sector"
Sébastien BILLOWS
"Below-cost Legislation and the Rise and Fall of "Marges arrière". An Overview of State Intervention in Retailer-Supplier Relations in France, 1996-2013
12.00-13.00 Lunch
13.00–16.15 - SESSION 3: MANAGEMENT AND ORGANIZATION IN THE RETAIL INDUSTRY
President-discussant: James WALKER
Andrew HULL
"Managing Performance: lessons from chain store retailers in the 1920's"
Thomas BUCKLEY
"Store Location and retail performance in the UK 1950-1980."
14.30-14.45 Break
Sakari SILTALA and Anitra KOMULAINEN
"The History of Finnish Retail Co-op HOK-Elanto"
Kristoffer JENSEN
"Americanization, Innovation and Market Logics: Consumer cooperation and the development of Danish food retailing in the 20th century"

16.15-16.45 CONCLUDING ADDRESS
Peter SCOTT



COMITÉ D'ORGANISATION
Thomas Buckley, doctorant en gestion, Henley Business School, Université de Reading
Tristan Jacques, doctorant en histoire, IDHES, Université Paris 1
Olivier Londeix, doctorant en histoire, IDHES, Université Université Paris Nanterre

Professeurs référents
Sabine Effosse, Professeure d'histoire contemporaine, Université Université Paris Nanterre
Michel Margairaz, Professeur d'histoire contemporaine, Université Paris 1


Photo : Paul Townsend,
The arrival of the supermarket...
Conception et réalisation : Delphine Mondout, Université Université Paris Nanterre, IDHES.
This work is licensed under a
Creative Commons Attribution-NoDerivs 2.0 Generic License
.
Mis à jour le 22 juin 2016